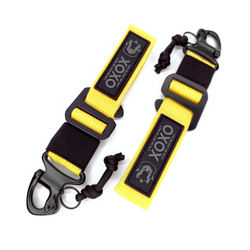 exalte
limited /love me quick release
the little strap to keep what's yours, yours.
Material- PVC Rubber, Metal QR hook/pin system, Metal g-hook, Elastic band, Nylon strap
Size- 6.5 x 1~1.35 inch
This QR Key Strap features the May, "XOXO" Love Me Love Me Not, design in pvc rubber. The top portion of this strap is looped with an adjustable g-hook for easy adjustability. The bottom portion of the strap features a hook and pin style quick release system. Pull on the cord to release the hook from the pin to access your keys. For extra security, slip the above elastic band over the quick release system to ensure the cord it not accidentally pulled.