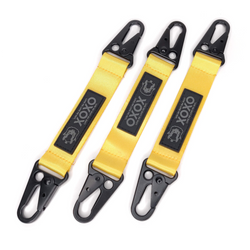 exalte
/love me keytag
launch edition of the little strap to keep what's yours, yours.
Material- PVC Rubber, Metal QR hook, Nylon strap
Size- 8.25 x 1 inch
This QR Key Strap features the May, "XOXO" Love Me Love Me Not, design in pvc rubber sewn to the top half of the strap. On either end of the is a black metal quick release hook. Place your keys on one end of the strap, and hook the other end to your belt loop. Pocket your keys and carry on with the day. If the keys fall out of the pocket, the strap will still be secured to your person. In the event the keys are dropped, the bright yellow tag makes it easy to spot in urban environments.